We're excited to announce that the client software of tBTC v2, the censorship-resistant Bitcoin bridge that combines decentralization with scalability, is now launched.
tBTC v2 is the second application supported by the Threshold Network, following Proxy Re-Encryption (PRE).
The client launch marks the beginning of the first phase of the rollout of tBTC v2, known as Chaosnet 0. Chaosnet stages are intended to graduate the rollout of tBTC v2 across several stages to ensure client and protocol robustness.
This kicks off the Chaosnet Beta Program, which will allow anyone to set up a node and earn rewards. In Chaosnet 0, only nodes run by Beta Stakers will be selected to perform work on the protocol – specifically generating randomness and creating wallets. Given the complexity of the rollout, it is crucial to limit custodying node operators at this beta stage to only the most technically proficient as the dev team monitors and improves the early network. Beta Stakers, in addition to meeting standard uptime requirements, are required to be highly communicative and able to provide logs if the Keep contributor team needs to diagnose network problems.
Our initial Beta Stakers are:
Infstones
P2P.org
Staked
Boar Network
The Chaosnet rollout is building toward the launch of a fully decentralized Bitcoin-to-Ethereum bridge. The Chaosnet sequence is designed to ensure that tBTC v2 is stress-tested at every stage, and that the final version of the protocol can scale effectively while remaining truly decentralized.
If you are a node operator and wish to become a Beta Staker, please indicate your interest here. The Keep contributor team will evaluate each application received. Please note that Beta Stakers will not receive any additional rewards outside of the normal split and are assuming their role strictly for the good of the network.
Over the coming months, subsequent Chaosnets will accompany the release of additional functionality leading up to the full launch of tBTC v2. Once the software is sufficiently stress-tested, the Beta Staker program will end, and any staker will be eligible to be chosen to perform work.
How to Earn tBTC Rewards Through the Chaosnet Beta Program
All node operators that meet the following requirements will be eligible to earn rewards in the Chaosnet Beta Program:
Nodes must authorize both the tBTC and random beacon smart contracts.

The node's client must be online and updated to the most recent version (with a two-week grace period for installation each time a new update is released).

The client must log consistent uptime.

Run on hardware that is capable of consistently generating cryptographic primitives.

Publicly expose client metrics in order for the dev team to monitor network health.
As a result of a proposal recently approved by the Threshold DAO, rewards will be split between tBTC and Proxy Re-Encryption (PRE) stakers according to the following schedule, where tBTC's and PRE's share of the rewards increases and decreases by 12.5% every month, respectively. Over time, a majority of all rewards will be distributed to tBTC stakers.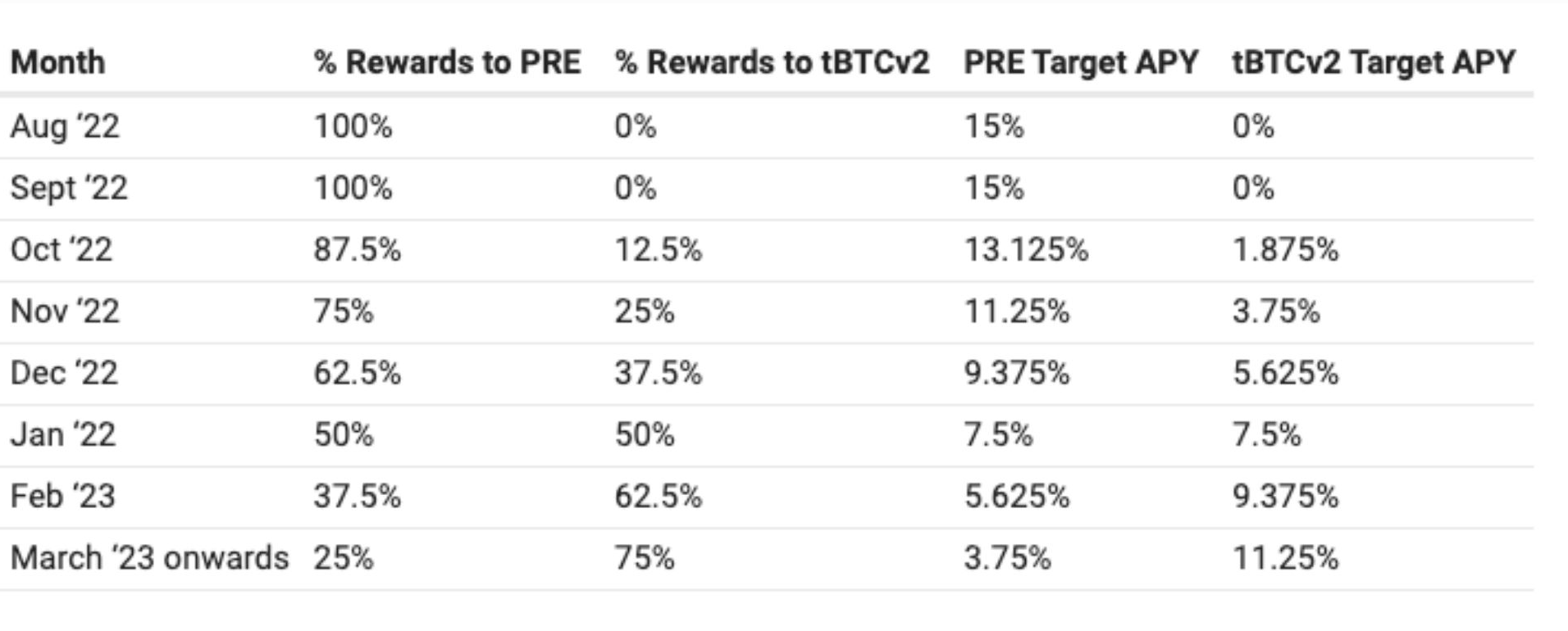 This calendar is designed to coincide with tBTCv2's ongoing release schedule – particularly quickminting functionality, which is due in January 2023. Rewards will be proactively allocated to divide a total target APY of 15% across (1) tBTCv2 and (2) Proxy Re-Encryption. While this yield will fall within an inflation/dilution ceiling of 15%, the real inflation rate is expected to be significantly lower; it is currently under 5% annually.
The deadline to set up a node to earn rewards is October 17th. Nodes set up on or before this date will receive rewards for the entire month of October.

An Important Step

Chaosnet 0 brings us one step closer to the full launch of tBTC v2 as a fully open-source and transparent Bitcoin-to-Ethereum bridge. tBTC v2's launch also brings the multi-app vision for Threshold Network to reality.

tBTC v2 is built around the core values of censorship resistance, transparency, and decentralization to enable bitcoin holders to participate in Ethereum DeFi. And in addition to being fully decentralized, tBTC is highly secure using advanced threshold cryptography secured by Threshold Network nodes.

Set Your Bitcoin Free
The decentralization built into tBTC's framework is reflected throughout all aspects of  its infrastructure: its community, governance, and product architecture are designed to remain decentralized, and are capable of scaling with demand.
tBTC is designed to help people set their bitcoin free. Your bitcoin should work for you – not for centralized exchanges.
---
Subscribe
Join the newsletter to get the latest updates.
---